Four Steps to Remove Bias in Hiring

Share:
By

Steve Williamson, Dir. Product Development, eRep, Inc.

Posted

Monday, March 19, 2018
In a previous article, Challenging Cognitive Biases in Hiring, we discussed twelve different biases that can occur in the hiring process. It is worthwhile to take a moment and familiarize yourself with those biases before reading further.
At eRep, we rely heavily upon the use of objective data, specifically the Core Values Index assessment, to make the best possible hiring and team building decisions. We call it "putting the right people into the right seats."
When it comes to making decisions, humans are notorious for allowing our emotions to govern our priorities.
We prefer one choice over another because of how it makes us feel, even when we're not aware of it. We even have euphemistic names for this, often citing 'gut instinct' or 'intuition' or even 'inspiration' as our source of apparent decision-making prowess.
The latest research in psychology and social sciences is showing that psychometric assessments like the Core Values Index can predict performance success in the workplace with surprising accuracy. The key is to obtain this objective data and use it with a suite of tools that remove bias from the decision-making process. It needs to not only be effective, but efficient, too.
eRep has developed a powerful and accurate four step process to find candidates, screen them, match top performers to the role, and then fuel their performance using objective data, all in a way that practically eliminates bias from the process.
Step 1: Profile the role with a Top Performer Profile™. This process defines the role in objective terms that can be matched instantly and with mathematic accuracy against candidate CVIs.
Step 2: All candidates take the CVI. Objectively measure their innate, unchanging nature with the most accurate psychometric assessment available today, the Core Values Index (over 97% repeat reliability).
Step 3: Using eRep's Applicant Tracking System (ATS), sort and filter out candidates with poorly matched CVI profiles. Identify the candidates with high recommends, review their resumes, and interview the top few.
Step 4: Once the team is selected, empower their ongoing performance. Measure their self-reported happiness with eRep's Happiness Index. Provide them the clarity, purpose and feedback they need to succeed using the Performance Fuel application.
Why Does it Work?
All four steps rely on objective data that is organized for optimum efficiency. These steps practically eliminate the challenges of unconscious personal bias in the hiring process. Once the hire has been implemented, ongoing performance is enhanced with the performance fuel formula of clarity, purpose and feedback. The entire system is seamlessly integrated.
The importance of putting the right people into the right seats using the accuracy of the Core Values Index cannot be overstressed. Engaged employees outperform their counterparts with up to 200% more productivity, while disengaged staff can cost up to 3x their annual salary in lost productivity.
Don't let unconscious biases inhibit your ability to hire effectively. Call eRep today to find out how you can take your organization's performance to the next level.
---
Go to eRep.com/core-values-index/ to learn more about the CVI or to take the Core Values Index assessment.
---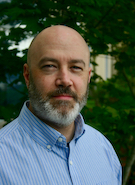 Steve Williamson
Innovator/Banker - Dir. Product Development, eRep, Inc.
Steve has a career in information technology, software development, and project management spanning three decades. He is the author of a series of fantasy novels called The Taesian Chronicles (ruckerworks.com), and when he isn't writing he is an aspiring multi-instrumentalist and composer, a virtual pilot in a home-built flight simulator, and a cyclist.
---
Employer Account Sign-up
Sign up for an employer account and get these features and functions right away:
Unlimited Job Listings on eRep.com
Applicant Search
Applicant Tracking System (ATS)
Unlimited Happiness Index employee surveys
3 full/comprehensive CVIs
No credit card required — no long-term commitment — cancel at any time
---
Write for eRep
Are you interested in writing for eRep? Read our submission guidelines.
---
Learn more about the CVI:
---