The Score Matters: Get To Know Your Core Values Index Scores
By

Steve Williamson, VP Digital Marketing and Content Creation, eRep, Inc.
Posted

Monday, October 29, 2018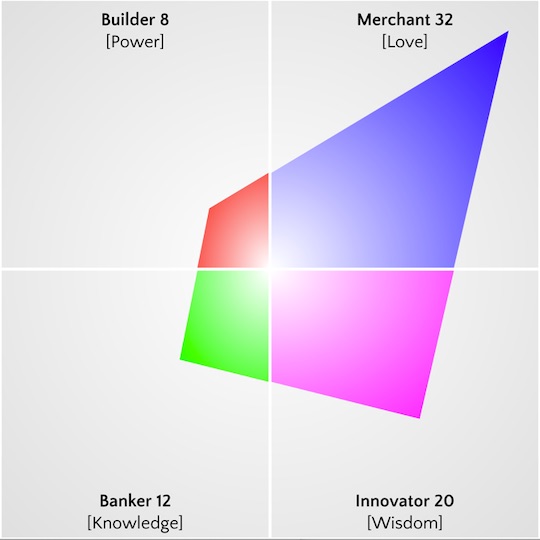 In the field of psychometric assessments and personality tests, the Core Values Index™ stands head and shoulders above the competition.
In fact, the competition isn't very competitive. You may have heard of some of the bigger ones, like Myers-Briggs and The DiSC. They are expensive, they take a long time to complete, and you need special training to understand their often unintuitive results.
They aren't very reliable, either. Your results may vary by as much as 40% or more every time you take the assessment.
The Core Values Index is way ahead of the rest. Not only is the CVI the most reliable personality test available1, it costs less than $50, takes just 8 minutes to complete, and your 17-page report is customized specifically for you — and you don't need to take a class to understand it, either.
When you complete your Core Values Index assessment, your customized report begins with a graph showing your personality across four categories called 'core values'.
Because your CVI has these four simple core values, your report is very easy to understand.
But don't let that simplicity fool you.
After you take the CVI, our system calculates your specific score for each of the four core values, ranging from 0 to 36. It is the relative proportion between each of these core values that detail your specific personality.
You get the greatest insight and knowledge by knowing and understanding your specific core value scores. It describes what makes you unique.
The four core value energies of the Core Values Index assessment are called Builder, which represents power and action; Merchant, which represents love and social connections; Innovator, which represents problem-solving wisdom; and Banker, which represents knowledge and justice.
Your CVI report shows your specific scores for each of these categories. The higher your score for a particular energy, the more you enjoy accessing that part of your personality.
Since everyone's CVI scores total exactly 72, if you have very high scores for one or two core values, you will have lower scores for the others.
Here are some examples:
People with high Builder scores enjoy activities that give them a strong sense of accomplishment.
Merchants enjoy establishing and maintaining connections with others and find a lot of happiness building consensus in groups.
Innovators are the problem solvers of the world. They love nothing more than finding solutions to challenging problems.
Bankers thrive when gathering and sharing knowledge with others. They also have a strong sense of justice in everything they do.
The numeric scores of your CVI report represent how much you enjoy accessing these different types of emotional energy.
If you have a score of 25 or higher for a specific core value, we call that a profound score. You will spend the vast majority of your time within that core value.
If you have a score less than 12, it will be very rare that you access that core value energy.
Those who have relatively even core value profiles can have a proportionately easy time accessing most or all four of their core value energies. For example, someone who has a perfectly balanced CVI profile of 18-Builder, 18-Merchant, 18-Innovator and 18-Banker can access all four core value energies with equal ease.
My primary and secondary core values are 27-Innovator and 17-Banker. That means I describe myself as an "Innovator/Banker."
Because my Innovator score is above 25, I am referred to as a 'profound Innovator.'
When people take the CVI, they are always excited to find out what their core values profile is.
Are you an Innovator/Banker like me? Are you a Merchant/Builder? Are you a Banker/Builder?
See the Core Values Index profiles of James Bond, Felix and Oscar (The Odd Couple), and Maya Angelou.
The CVI goes beyond these primary and secondary labels, however. All four scores and their relationship to each other paint a very detailed and highly accurate picture of you that transcends mere labels.
We encourage you to go to eRep.com/core-values-index/ on your mobile phone or computer and take the CVI. It costs less than $50, takes just 8 minutes to complete, and you get a fully customized 17-page report giving you powerful insights about what makes you unique.
These insights will both confirm what you already know about yourself and provide new information that can help empower your relationships with others and guide you as you navigate through life.
NOTES:
[1] In longitudinal studies, the Core Values Index scored a repeat reliability rating of 97.7%.
---
Core Values Index™ and CVI™ are trademarks of Taylor Protocols, Inc.
---
Go to eRep.com/core-values-index/ to learn more about the CVI or to take the Core Values Index assessment.
---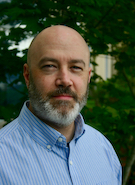 Steve Williamson
Innovator/Banker - VP Digital Marketing and Content Creation, eRep, Inc.
Steve has a career in project management, software development and technical team leadership spanning three decades. He is the author of a series of fantasy novels called The Taesian Chronicles (ruckerworks.com), and when he isn't writing, he enjoys cycling, old-school table-top role-playing games, and buzzing around the virtual skies in his home-built flight simulator.
Employer Account Sign-up
Sign up for an employer account and get these features and functions right away:
Unlimited Job Listings on eRep.com
Applicant Search
Applicant Tracking System (ATS)
Unlimited Happiness Index employee surveys
3 full/comprehensive CVIs™
No credit card required — no long-term commitment — cancel at any time
Write for eRep
Are you interested in writing for eRep? Read our submission guidelines.
---
Learn more about the CVI
---