Your Customers are Happy Because Your Employees are Happy
By

Katie Pierce, Contributor
Posted

Monday, March 20, 2023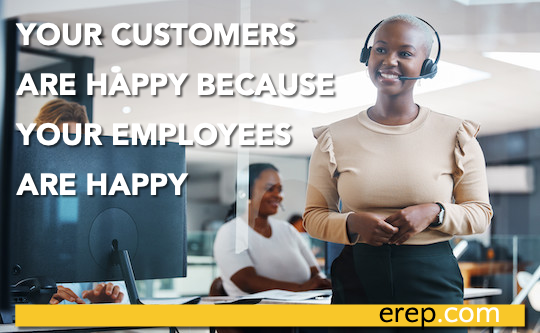 Employee happiness significantly impacts customer satisfaction and positive reviews1 regarding your business. If your employees are happy, it will be easier for them to provide the excellent service your customers demand.
This article discusses how employee happiness and engagement can improve overall customer satisfaction. It will also list powerful ways you can ensure your employees stay happy.
In business, it's easy to focus on your customers and forget about the people who work for you. If you want happy customers, it is crucial that you ensure your employees have everything they need to do their jobs well.
How Employee Happiness Can Improve Customer Satisfaction
There's a direct link between employee happiness and customer satisfaction. When employees are happy, they're more likely to go above and beyond what's expected of them. They'll take pride in doing things right and will make sure the customer has an excellent experience.2
Let's look at some examples of how employee happiness can lead to better customer satisfaction:
1. Employees Are More Likely To Take Care Of Their Clients
If your employees feel like they're appreciated by management, they will be more likely to take care of their clients. They'll want to make sure that each client has an enjoyable experience.
For instance, happy employees are more likely to have positive energy when interacting with clients. That means they'll smile, greet clients warmly, and use good manners.
2. Employees Will Be More Productive
Happy and engaged employees are up to 200% more productive* than their disengaged peers. When your employees are stressed out or feel unappreciated, they're less likely to put forth their best effort. This can affect productivity and work quality, leading to lower customer satisfaction.
* Editor's note: Engaged employees who are psychometrically aligned to their role through a Top Performer Profile™ by eRep exhibit 200% or higher productivity and experience 50% or lower turnover.
3. Employees Will Have Better Relationships With Customers
Your employees will be happier if they know that their managers appreciate them. They'll feel valued and respected. In turn, they'll be more likely to treat customers with respect as well. Employees can better translate this into quality customer service if they know they're being treated fairly.
Happy employees are more likely to have positive energy when interacting with clients.
How to Keep Employees Happy
Now that you know why employee happiness is important, here are some tips for keeping your workers happy.3
1. Prioritize Work-Life Balance
Most employees don't want to feel like their work is taking over their lives. They still want to have time to spend with their families and friends. Find ways to balance these two aspects of life so that your entire team feels fulfilled. Where possible, give your employees flexibility in scheduling and let them decide how to allocate their time.
Don't make your employees work outside of work hours. If you require overtime, make sure that there's adequate (and legal) compensation. Otherwise employee engagement will decline because they're giving up their personal time.
2. Provide Training Opportunities
Training opportunities allow your employees to learn new skills and gain valuable knowledge. For example, training programs can teach employees how to handle difficult situations professionally. They can also teach them how to interact with customers and other team members more effectively.
Most employees value growth opportunities in their jobs, and training opportunities are a great way to give them a chance to achieve them. These opportunities will make your employees feel like they've accomplished something worthwhile. Advancement also makes employees feel valued.
3. Recognize Employee Achievements
When it comes to recognition, it doesn't matter whether you're rewarding an employee for a job well done or acknowledging a milestone achievement. The point is that your employees need to know that they're being recognized for their efforts.
A simple thank you note can help your employees feel acknowledged. However, if you want to really motivate them, consider offering additional rewards. For example, you could consider giving them a promotion or raise. This shows how much you value their hard work and dedication.
Your employees need to know that they're being recognized for their efforts.
4. Make Sure Your Team Is Connected
It's not enough to simply provide training opportunities and recognize achievements. You also need to find ways to make sure your team stays connected. A team should know how to work together to come up with creative solutions.
One way to do this is by hosting team-building activities, such as happy hours, wellness programs,4 or team lunches. These are great opportunities to build relationships and foster collaboration.
5. Encourage Feedback
Feedback is one of the most powerful tools for improving communication between leaders and their teams. It helps people understand each other better and allows them to communicate effectively.
Encouraging employee feedback will show them that you care about their opinions and feelings. It will encourage them to share their thoughts with you as well. This will improve your relationship with them and make them more willing to listen to you when you speak.
The Bottom Line
Employee happiness is important to any business. When you ensure that your employees are satisfied, they'll be happier and more likely to perform at their best. As a result, your customers will also be happier. There are different ways to guarantee this satisfaction, and the tips above are a great place to start.
NOTES:
[1] https://awesomewebsiteguys.com/increase-your-positive-reviews/
[2] https://www.startingpoint.ai/post/quick-solutions-to-improve-the-customer-experience
[3] https://erep.com/blog/people-are-your-secret-sauce/
[4] https://www.cooleaf.com/blog/5-virtual-holiday-party-ideas-for-remote-teams
---
Go to eRep.com/core-values-index/ to learn more about the CVI or to take the Core Values Index assessment.
---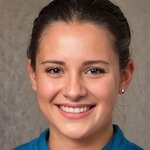 Katie Pierce
Contributor
Katie Pierce is a teacher-slash-writer who loves telling stories to an audience, whether it's bored adults in front of a computer screen or a bunch of hyperactive 4-year-olds. Writing keeps her sane (most of the time) and allows her to enjoy some quiet time in the evening before she walks into a room of screaming kids (all of whom she loves dearly) the next morning.
Employer Account Sign-up
Sign up for an employer account and get these features and functions right away:
Unlimited Job Listings on eRep.com
Applicant Search
Applicant Tracking System (ATS)
Unlimited Happiness Index employee surveys
3 full/comprehensive CVIs™
No credit card required — no long-term commitment — cancel at any time
Write for eRep
Are you interested in writing for eRep? Read our submission guidelines.
---
Learn more about the CVI
---