---
The Value of Diversity Part II: The Example

Share:
By

Steve Williamson, Dir. Product Development, eRep, Inc.

Posted

Monday, December 10, 2018
This is the second article of a three-part series where we discuss the reason, value, and method for achieving workplace diversity. In the first article, we discuss the quantitative metrics showing how diversity adds value to your organization.
Diversity and bias are often discussed together, considered to be conceptual opposites, and in many ways that is true. Cognitive biases in the hiring process unfortunately lead to a lack of diversity in the workplace.
Before we can effectively address diversity issues, however, we must understand the reasons why diversity is so important.
Why does diversity matter?
Imagine for a moment that the head of the NFL calls to give you an offer you can't refuse. Some rich investors are willing to put up the money for you to start a new team in the league and your first responsibility is to select the team roster amongst a huge pool of talented college athletes.
You meet with your assistant coaches and scouts and review a list of top players from schools around the country. Your objective is to fill the team with starters on offense, defense, special teams, and backup players for all positions.
Now that we've set the stage, what strategy would you use to pick your team? Would you select players that only came from a single college? Would you only select athletes for both offense and defense that are 6' 5" and weigh 320 pounds, including your quarterback and kicker?
Having a football team filled with players that have such strong similarity would be very ineffective. The variety of positions require very different physical characteristics. Three-hundred pounders don't make good kickers or wide receivers.
Now consider this question: Would you fill your entire team with only athletes that are of the same ethnic background?
This is a strongly worded rhetorical question and the obvious intention is to point out the absurdity of bias in athletic scouting. Hiring for business is no different.
To successfully recruit and coach a football team, you would screen potential players based on their track record on previous teams. The selection process would include quantified measurements of athletic performance, e.g., how fast can your wide receivers run a 40 yard dash, etc. All of these things can be objectively measured.
To have the best chance of finding star athletes, you would scout from the widest selection of schools possible. There is no better way to create a football team that has the greatest chance of success.
→ See Part I of this series to find out what a lack of diversity may be costing you.
Success in the business world is governed by the same principles of diversity. In many ways, there is no difference between sports and business. The sport of football post high school is more about business than it is about sports. College athletics is like a four-year interview process for those seeking to go pro.
In pro sports, athleticism is the product but profit is the motive.
To build a winning business team, we should emphasize the statistics supporting the benefits of diversity discussed in Part I, "racially diverse teams outperform non-diverse ones by 35%, and teams with equal numbers of men and women earn 41% more."
The end goal of professional sports is to make as much money as possible by winning as many games as possible by choosing the best athletes possible. That cannot be accomplished without player diversity.
This analogy applies to any organization. To build the best team possible, use objective metrics and measurable performance history to evaluate candidates from the largest pool possible.
Diversity is the only way to achieve that.
Diversity in hiring gives you access to the widest possible range of available candidates, ensuring you can hire top performers who are good at the job before they even show up.
In the final article of this series, we will discuss the methods and tools available to build diversity in your organization.
---
Go to eRep.com/core-values-index/ to learn more about the CVI or to take the Core Values Index assessment.
---
Read similar articles in these categories:
---
Free CVI Webinar
Take the CVI and get free access to our webinar, INTRODUCTION TO THE CVI, presented by leading CVI expert and eRep CEO, Travis Stovall.
---
Learn more about the CVI:
---
Connect with eRep:
---
---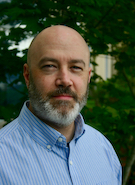 Steve Williamson
Innovator/Banker - Dir. Product Development, eRep, Inc.
Steve has a career in information technology and software development spanning three decades. He is the author of a series of fantasy novels called The Taesian Chronicles (www.taesia.com), and when he isn't writing he enjoys motorcycle adventure touring and buzzing around the skies in his home-built flight simulator.