Maya Angelou: The Love of a Merchant

Share:
By

Ally Defrance, Social Media Intern, eRep, Inc.

Posted

Monday, September 25, 2017
Take the Core Values Index today to find out where your personal and professional strengths lie.
The list of Maya Angelou's achievements is a long one - but the list of people she touched is even longer. According to Angelou, the former is what really matters. Angelou preached that "...people will forget what you said, people will forget what you did, but people will never forget how you made them feel." Among many other things, Angelou was a celebrated poet, memoirist, actress, and educator. Perhaps most importantly, she was a civil rights activist who was and still is considered to be one of the foremost voices on the African-American experience.
Angelou's ultimate Merchant-ness is evident in her belief in powerful love and in hope.
Maya Angelou overcame many obstacles and achieved much in her life. Varied as they were, her accomplishments seemed to have the same effect on her audience. Whether it was through the book, screen, or stage, Angelou was consistently able to make her audience feel. It's clear that she was exceptionally in tune with the emotions of others, as well as her own. This happens to be a trademark trait of the Merchant. A Merchant's core value is love, and above all they value relationships and connections with others. Merchants such as Angelou tend to be the leaders and icons in culture and the arts. They are uniquely able to inspire hope and courage in others, and they see endless opportunities and possibilities.
Angelou's thoughts on love were that of a textbook Merchant. She believed that "love recognizes no barriers. It jumps hurdles, leaps fences, penetrates walls to arrive at its destination full of hope." Love and hope: two things Merchants endlessly strive to find in themselves and to make others feel.
Her self-stated mission in life was to "not merely survive, but to thrive; and to do so with some passion, some compassion, some humor, and some style." She achieved that goal and then some - for people have not forgotten what she said, what she did, or how she made them feel.
---
Go to eRep.com/core-values-index/ to learn more about the CVI or to take the Core Values Index assessment.
Employees hired with a CVI that closely matches a Top Performer Profile often outperform candidates hired without a TPP match by 50% or more.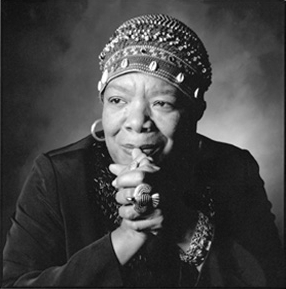 Source
---
---
Learn more about the CVI:
---
Write for eRep
Are you interested in writing for eRep? Read our submission guidelines.
---
Connect with eRep:
---
---

Ally Defrance
Innovator/Banker - Social Media Intern, eRep, Inc.
Ally DeFrance is the Social Media Intern at eRep. Ally is a junior at Oregon State University's Honors College, where she studies Political Science and French. On the off chance that she's not studying, Ally can be found drinking her weight in coffee on campus, reading, or traveling.