Job Interviews From Hell
By

Steve Williamson, Dir. Product Development, eRep, Inc.

Posted

Monday, October 5, 2020
Share this article:
Tags: #hiring #humor #interviews
Shortly after accepting the job, I sat down for my orientation with the Director of Human Resources. He explained the benefits packages and then transitioned into company policies and procedures. He capped it off with, "If you run across any good porn sites on the web, send them my way."
Wait, what?
Although this took place after I interviewed and landed the job, these kind of scenarios were emblematic of mine and other people's experiences working at free-and-loose tech companies during my career.
I've been asked why manhole covers are round (apparently there are many possible answers).
When interviewing at a recording studio for a paid intern position, I received a two-hour lecture about the benefits of vitamins without being asked a single question.
While applying for a web developer position, I was given a technical question that was impossible to answer. It was similar to, "What floating point string do you get when you combine an orange with the number four?" (There is no such thing as a floating point string.)
When I pointed out that the question itself couldn't be answered and, if coded, would cause an error, the interviewer gruffly said, "That tells me all I need to know — that you're not right for this position."
I applied to a hot new tech company in a downtown high rise office building, filled with growth and promise. While walking from the lobby through the developers bull pen toward a small conference room, I noticed several cubicles had sleeping bags tucked under the desks. I asked the interviewer why.
"We ask a lot of our employees, and those who don't enthusiastically provide it rarely stay very long."
These are just some of my own examples of job interviews from hell. Reach out to us on social media — Twitter and Facebook and LinkedIn — and share your job interview stories.
One of the more common types of interview questions I've been asked by technical people in IT or software development jobs is a thinly veiled attempt to make the interviewer look smarter than the candidate. The "Why is a manhole cover round?" questions and their ilk are apocryphally associated with Microsoft (or Google, depending on who you ask) in an attempt to discern the software developer's ability to think outside the box. The possible answers to this question arguably have nothing to do with your ability to write software or diagnose network issues.
I've actually been asked the manhole cover question twice. The first time, I gave the simple answer, "Because man holes are round." The interviewer made a note on his piece of paper and smugly said, "There are actually 23 correct reasons. We don't count that one because it's so obvious." (That evening, I used the internet to look up other answers and had a list of them memorized just in case the question came up again during my job search — it did. Knowing multiple answers didn't help me get that job, either.)
One of the most banal questions of all is, "Where do you see yourself in five years?"
In today's job world where staying at the same company for more than three years seems to be a rarity, this question comes across as unoriginal and rote.
Sometimes job interviews can be a bit less boring and a lot more interesting. When I was a senior in high school, I interviewed for and landed a job at a pizza parlor by a very fidgety and nervous guy named Adolf, only to witness Adolf get arrested two days later for cocaine distribution. He was apparently selling drugs out of his office at the pizzeria.
Perhaps one of the most frustrating things to occur to a job applicant is being ghosted. One financial services firm told me I made it into the top three candidates, and the friendly HR person who was my coordinator during the application process hinted to me that I was the front-runner to land the job. An announcement would be made within 48 hours. I never heard from them again.
Don't get me started about uploading your resume to the company web site, only to be required to enter in your experience, qualifications, and education by hand in separate fields. Why do companies still do this?
The final anecdote I want to share is a job interview success story involving a pair of socks.
This was early in my career, I was in my early 20s and had just gotten married. I was between jobs and my wife and I had no savings, so I needed to get re-employed quickly. I applied for a job at a professional services firm downtown. My first interview was with Mary, the manager whom I would report to on a daily basis. The interview with Mary went well, so the second and final interview was scheduled with Grace, the co-founder of the company (and Mary's boss).
Grace asked me a few straightforward questions about my goals and aspirations. I was pleased to notice during the interview that she kept glancing down at my socks.
I had taken a gamble and deliberately worn purple socks under my dress pants. They really stood out and were completely inappropriate for the situation. That was the point, and when I had my opportunity, I took it.
The question I hoped she would ask finally came. "Why should we hire you?"
I smiled and pointed at my socks. "As you may have noticed, I wore these garish socks that would normally make me lose the interview. I wore them to prove a point, though. I want you to know that I'm not presenting a false image during the interview just to make me look good. Instead, I've done the opposite. I'm here to actually do the work and do it well, not just present a false image to make you think I can."
Grace smiled and leaned forward, extending her hand. "Welcome to the company."
Job interviews are a curious blend of fact, fiction, and artistry. Oh, and a lot of both good and bad luck.
---
Go to eRep.com/core-values-index/ to learn more about the CVI or to take the Core Values Index assessment.
---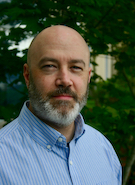 Steve Williamson
Innovator/Banker - Dir. Product Development, eRep, Inc.
Steve has a career in information technology, software development, and project management spanning three decades. He is the author of a series of fantasy novels called The Taesian Chronicles (ruckerworks.com), and when he isn't writing he is an aspiring multi-instrumentalist and composer, a virtual pilot in a home-built flight simulator, and a cyclist.
---
Employer Account Sign-up
Sign up for an employer account and get these features and functions right away:
Unlimited Job Listings on eRep.com
Applicant Search
Applicant Tracking System (ATS)
Unlimited Happiness Index employee surveys
3 full/comprehensive CVIs
No credit card required — no long-term commitment — cancel at any time
---
Write for eRep
Are you interested in writing for eRep? Read our submission guidelines.
---
Learn more about the CVI:
---