Q&A About Relationships and the Core Values Index
By

Steve Williamson, VP Digital Marketing and Content Creation, eRep, Inc.
Posted

Monday, August 29, 2022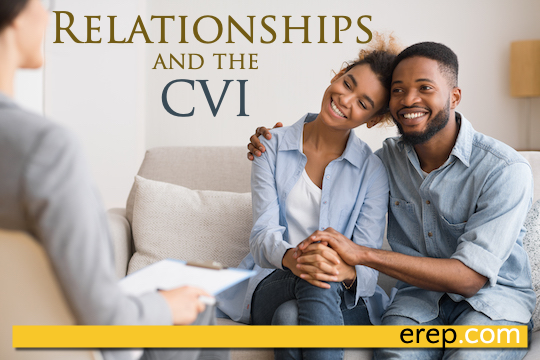 We frequently speak of using the Core Values Index™ psychometric assessment in the employment space. It is used by a growing list of employers seeking to screen and place ideal candidates in roles based on psychometric fit.
Outside of the workplace, over 1 million individuals have taken the CVI™ to learn more about how they are hardwired. Their report details how they see the world, their optimal learning style, and even how they instinctively respond to stress and handle conflict.
A growing number of couples are using the CVI as a way to enhance their relationship or to overcome relationship challenges.
What can we learn from the CVI and how it impacts relationships? To find out, we interviewed marriage counselor Sabrina Walters and her husband, Eric Walters, a certified life coach and educator. They own Core Values Counseling1 in Hillsboro, Oregon. We discussed how the Core Values Index psychometric assessment can be used to help couples strengthen their relationships for the long haul.
---
How does a couples counselor use the CVI in their therapy process?
Currently there aren't many marriage counselors in the United States that use the Core Values Index as an intake or client evaluation tool, but that is changing. The CVI's ability to efficiently and accurately identify an individual's emotional hardwiring enables couples to quickly understand the DNA of each other's personality.
How does Sabrina and her team at Core Values Counseling use the CVI in their practice?
"We ask new clients to take the CVI before their first appointment. This gives us an immediate sense for where each individual is coming from and how they see the world. It is surprising to many people how quickly the CVI can help a therapist get to know their clients."
It's not only important for the therapist to get to know their clients. It's crucial for them to get to know each other.
"You really need to get your Ph.D. in your spouse. Get to know them at a deep level and how they are hardwired." — Gary Smalley
What can couples expect when taking the CVI?
The CVI takes only 8 to 10 minutes to complete. Each person gets a report customized for them that details their personality profile. This goes beyond being creative or analytical, right- or left-brained (which isn't really a thing anyway). The CVI outlines "the personality of their soul," as Sabrina describes it.
When the pair completes their CVI, their therapist reviews their reports and explains the fundamentals of their personality profiles. The CVI measures how much of four core values exist within the individual, and represents the ratio of these core values using scores between 0 (none) and 36 (maximum).
Since an individual's total core value scores sums to exactly 72, when one core value exists at a high level within them, their other core values are correspondingly lower. It is this particular ratio of core values within a person that makes them unique.
Sabrina reviews the couple's CVI profiles and scores and explains their overlap and differences.
"We have worked with couples that have similar profiles and others whose profiles are quite different," Sabrina said. "Having wildly different CVI profiles doesn't necessarily mean the couple is incompatible, however."
New couples often overlook differences in their personality during the classic 'puppy love' stage. Those differences can become more apparent over time, however. As Sabrina put it, "What initially attracted us can eventually annoy us."
Being honestly aware of the similarities and differences between two people is important if they are to keep them in perspective as their relationship grows.
The couples learn as much or more about themselves as they do about their partner during CVI-based therapy. "The first priority is to understand how you are hardwired," Sabrina said. "The second step is to understand your partner and their personality."
The CVI is very helpful to the therapist by giving them insights that support their traditional talk therapy. It also gives the therapist a deeper understanding of the client very quickly.
"The CVI streamlines the couple's path toward understanding each other, and it streamlines the therapist's ability to help them."
Can the CVI help failing relationships?
"Absolutely," Sabrina said. "Whether a couple shares similar CVI profiles or they are very different, understanding of self and the other is crucial."
"Couples need a shared vision," Eric Walters added. "If they have that, and are working toward that shared vision, their efforts through CVI-based therapy can be fruitful."
Couples that are struggling can sometimes lose site of the value of having a shared vision. Bringing them back to a center they both share is the first step.
"Learning how each person in a relationship sees the world, and in a more practical sense how each handles conflict, is profoundly constructive." - Sabrina Walters
One of the key aspects of a person's personality that the CVI describes is their negative conflict resolution strategy. This is the default way a person responds to conflict. Understanding how they react to stress, and how their partner reacts as well, is a crucial step toward overcoming the challenges that face many struggling couples.
"We have successfully worked with couples who had very different personalities," Sabrina told us. "As long as they center themselves on a shared vision as a couple, the knowledge and understanding of their different CVI profiles can actually bring about a respect and honoring of each other's differences that takes them to a whole new level as a couple."
"As a couple moves forward through time together, things that were attractive can become aggravating. You have to start celebrating each other; it projects you in a shared direction that is positive." — Sabrina Walters
Should new couples take the CVI before things get serious?
"If only everyone would take the CVI as an individual before getting into a relationship, the world would be a much happier place." Sabrina's advice rings true with practically every other aspect of how the CVI benefits people.
The Core Values Index is not just for relationships and hiring, either. Many are discovering the CVI's tremendous power and usefulness when evaluating their career. Even high school students are using it to plan their career, or as Eric, who in addition to being a certified life coach is also a high school educator, mentioned, "My students use it to better understand their ideal learning style."
Couples sometimes struggle to build up their partner because they don't know how. The CVI helps them understand each other and gives them the knowledge they need to build those skills. Taking the CVI before getting into a serious relationship makes this process much easier.
Understanding each other's CVI profiles can even help improve expectations. By understanding each other at a deeper level the CVI provides, couples don't have as many unmet expectations. Knowing how each other is hardwired enables this insight.
"The trick is to not only allow differences but to embrace them." — Sabrina Walters
What if a couple has very different CVI profiles?
Sabrina told the story of a couple she worked with that had profoundly different CVI profiles. "She was a profound Banker/Builder, he was a profound Merchant/Innovator. They couldn't have been more opposite. As they were sitting through their CVI consultation, their light bulbs were being lit, saying, 'This makes so much sense.'"
The couple's therapy was successful despite their different personality profiles because, according to Sabrina, "They honored each other's differences instead of picking them apart. They divided and conquered the world together. They became even more in sync. They built a legacy of love and commitment and caring for other people. Even their kids saw this amazing relationship, and wanted to have that in their lives someday."
What are some immediate benefits a couple can experience when using the CVI?
The CVI only takes 8 to 10 minutes to complete, and the 17-page report is easy to read and understand.
Within the first day of completing their assessments, one of the first things the couple experiences is an "Ah, ha!" moment when they begin to see their partner through each other's lens, not just their own.
"They will begin to understand how their partner sees the world," Sabrina explained.
The second benefit the couple will experience is a new understanding of how they hurt their partner. Through greater knowledge of their negative conflict resolution strategy as described in their CVI reports, they can learn how to switch to a more effective core value energy. Sabrina commented, "It can be tough to learn how to make that switch in the moment, but this is very useful. It is about learning the things we do to protect ourselves."
For couples experiencing conflict, learning about each other's negative conflict resolution strategy is crucial information. These strategies define each person's defense mechanisms and how those defenses are triggered.
"The third level of understanding kicks in when the couple learns where the two of them can meet that is going to be most effective and constructive during conflict."
It is very important for each person in a relationship to learn what their partner needs when things get challenging. "The CVI gives them the tools they need to shift into a more constructive emotional energy."
Sabrina described this concept with a metaphor. "What is your dance? Each couple has their own conflict strategy dance, and the CVI helps them learn their very specific way of handling conflict unique to their relationship."
Sometimes these three levels of progress can transpire in a matter of hours, demonstrating just how useful the CVI can be in couples therapy.
The ideal way to use the CVI in relationships is when both individuals have taken it and understand themselves before they meet. How do couples already in established relationships approach and use the CVI?
Couples already in long-term relationships use the CVI and approach its insights the same way those new to it would.
"Learn about yourself and honor your partner by learning about them. Get a Ph.D. in your partner. Develop the ability and desire to see them through their lens, through their eyes of who they were created to be. The CVI is the DNA of their soul. You're seeing what makes them tick and how they are hardwired — embrace that."
The CVI describes the individual, and it is the shared knowledge a couple experiences when they take the CVI together that makes this form of couples therapy so effective. It helps them not only understand what truly makes each other happy, but from a constructive standpoint, it describes how they respond to conflict.
"When couples have challenges, it's the negative conflict strategies inherent in their CVI profiles that have built their protective walls. Understanding those responses to conflict and why they happen is important. Then the mending required to tear down those walls can begin. It gives you compassion for one another."
Most couples that come to the team at Core Values Counseling have been together a long time and have a lot of damage to overcome. The CVI enables them to move forward from a newfound position of knowledge about how each other ticks. Along with the CVI, Sabrina and Eric use the Gottman method2 to help couples connect, break down barriers and attune to each other.
"When they struggle, couples are in the flight, fight or freeze mode of their brain." — Eric Walters
Eric said, "They're trying to figure it out using their own built-in conflict resolution strategy. They move into the reptilian part of their brain. Naming their defensive hardwiring with the CVI moves it into their prefrontal cortex, into an area of reason and understanding of how they are wired and how the other person is wired. It lets them shift into the core value energy needed to address the situation in a healthy way."
→ If you are in a relationship or just curious about your own emotional hardwiring, the Core Values Index is one of the most accurate ways to get started. In less than one hour, you can complete your assessment and read your profile report. Share your report with your partner and begin your path toward greater knowledge and understanding.
---
Sabrina Walters, M.A., LMFT, LPC, Licensed Marriage and Family Therapist
Sabrina is a Gottman Certified Therapist & Trainer and she holds a Masters of Arts in Marriage and Family Therapy from George Fox University. Major coursework includes human growth and development, family and couples counseling, multicultural counseling, drug and alcohol counseling, spirituality, Gottman Couples Therapy, and the Core Values Index. She has been practicing therapy since 2004 and continues to enjoy helping couples and individuals thrive in their lives. Sabrina and her husband, Eric, have a group practice where they train others in counseling couples.
Eric Walters, MA, Certified Coach
Eric holds a MA in Physical Science Education and is currently working toward a Ph.D. in Transformational Leadership. Eric and Sabrina work together to lead Core Value Counseling, lead couples conferences and are passionate about helping people understand themselves and each other through the use of the Gottman Method of Couples Counseling and the use of the Core Values Index.
---
NOTES
[1] Core Values Counseling, Hillsboro, Oregon: CoreValuesCounseling.com
[2] Gottman Method: www.Gottman.com/couples/
Core Values Index™ and CVI™ are trademarks of Taylor Protocols, Inc.
---
Go to eRep.com/core-values-index/ to learn more about the CVI or to take the Core Values Index assessment.
---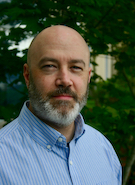 Steve Williamson
Innovator/Banker - VP Digital Marketing and Content Creation, eRep, Inc.
Steve has a career in project management, software development and technical team leadership spanning three decades. He is the author of a series of fantasy novels called The Taesian Chronicles (ruckerworks.com), and when he isn't writing, he enjoys cycling, old-school table-top role-playing games, and buzzing around the virtual skies in his home-built flight simulator.
Employer Account Sign-up
Sign up for an employer account and get these features and functions right away:
Unlimited Job Listings on eRep.com
Applicant Search
Applicant Tracking System (ATS)
Unlimited Happiness Index employee surveys
3 full/comprehensive CVIs™
No credit card required — no long-term commitment — cancel at any time
Write for eRep
Are you interested in writing for eRep? Read our submission guidelines.
---
Learn more about the CVI
---