If You Lead People, Read These Books
By

Steve Williamson, Dir. Product Development, eRep, Inc.

Posted

Monday, October 18, 2021
Share this article: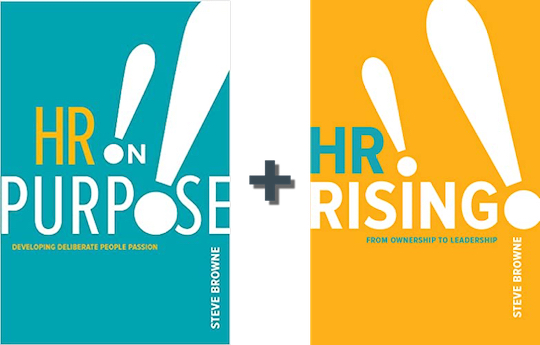 Tags: #HR #Leadership #ProfessionalDevelopment #bookreview
We review a pair of books intended for HR professionals that will leave you amazed at how appropriate and useful they are for anyone in a position of leadership. Learn why.
---
This article reviews two books: HR on Purpose!! Developing Deliberate People Passion1 and HR Rising!! From Ownership to Leadership2 (yes, the double exclamation marks are intentional). The author is Steve Browne, Chief People Officer at LaRosa's, Inc., a regional pizzeria restaurant chain in the Midwest United States, published by the Society for Human Resources Management (SHRM).
The intended audience for these books are HR professionals, but the value and perspective they provide makes them invaluable to anyone in a position of leadership over others.
Steve Browne is a well-respected and well-connected HR professional, with nearly 46,000 followers on Twitter as of this writing. He is a current member of the SHRM Board of Directors. Steve also runs a global HR network called The HR Net which reaches 13,000+ HR and business professionals globally each week.
I read these books despite not being an HR professional myself. I design, implement, and write about SaaS (software-as-a-service) tools used by the HR community and business leaders alike, so I am loosely connected to the world of HR ("I'm not an HR professional but I know many wonderful people who are.")
These books are quick reads, 134 and 172 pages, respectively, and are thoroughly engaging. Don't be intimidated by the "HR" in the titles. Both books are written in the first-person perspective by Browne in a story teller's format. They are thoroughly engaging, entertaining, and enlightening.
Steve Browne writes of his experiences and the numerous lessons he learned in his 35+ year career as a Human Resources professional, but the insights he provides apply to every person in a position of leadership over others. Browne's personal stories reveal what both good and bad leadership looks like and the benefits and consequences each provides.
"If we are at a point where we need to be reminded to be more human in what we do, then we have serious issues. A catchphrase or a motivational poster on the wall won't ever change behavior. Action will. Get out from behind your desk or computer, and put away your phone. Make time each day to have genuine 'face time' with the humans in your organization." - Steve Browne, HR On Purpose!!
Although focused on the HR professional, Browne's anecdotes and tales from his career hold up a mirror to people leaders that reveals how they can become more effective and more connected.
One of the primary take-aways I got from reading HR on Purpose!! and HR Rising!! is the value of connections between people regardless of stratus or status within an organization. This is a wisdom that applies to everyone. Getting away from a siloed mentality and just simply connecting with others without an agenda can provide unexpected benefits.
Browne describes encounters and relationships he had with seemingly intractable front-line workers and how he overcame their obstinacy through basic human contact. His approach of getting to know the individual through the fundamental act of listening proved invaluable to breaking down barriers.
There are lessons for business leaders in Steve's stories, too. Throughout his career, he worked under CEOs and supervisors that followed stodgy and rigid approaches to management. Not all of the relationships worked out but Browne reveals the lessons within each challenge — lessons that he learned as an HR Director, and lessons that business leaders can glean today.
"When it comes to leadership, people tend to think of those who are the most visible, vocal and charismatic.... Can you lead and not be the loudest in the room? Yes. Yes, you can." - Steve Browne, HR Rising!!
Browne also worked for enlightened business leaders that taught him valuable lessons in how to lead, inspire and empower others. Browne's experiences teach us that inspiration and empowerment not only goes from the top down, but sideways and even up, too.
Steve Browne has a personal storyteller's writing style that is approachable and really makes the pages turn. The lessons he imparts are presented in a down-to-earth and even familial way that makes them both enriching and enjoyable.
By the end of his two books, you will come away feeling inspired and enriched regardless of the position you hold or level of advancement in your professional career. You will also feel as if Steve Browne has become both a mentor and a personal friend.
---
Notes
[1] HR On Purpose!! Developing Deliberate People Passion at Amazon.com
[2] HR Rising!! From Ownership to Leadership at Amazon.com
---
Go to eRep.com/core-values-index/ to learn more about the CVI or to take the Core Values Index assessment.
---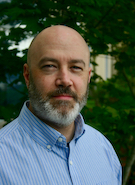 Steve Williamson
Innovator/Banker - Dir. Product Development, eRep, Inc.
Steve has a career in information technology, software development, and project management spanning three decades. He is the author of a series of fantasy novels called The Taesian Chronicles (ruckerworks.com), and when he isn't writing he is an aspiring multi-instrumentalist and composer, a virtual pilot in a home-built flight simulator, and a cyclist.
---
Employer Account Sign-up
Sign up for an employer account and get these features and functions right away:
Unlimited Job Listings on eRep.com
Applicant Search
Applicant Tracking System (ATS)
Unlimited Happiness Index employee surveys
3 full/comprehensive CVIs
No credit card required — no long-term commitment — cancel at any time
---
Write for eRep
Are you interested in writing for eRep? Read our submission guidelines.
---
Learn more about the CVI:
---