Career Validation: A Profile of Real Estate Broker and Coach, Andi Blackwell
By

Steve Williamson, VP Digital Marketing and Content Creation, eRep, Inc.

Posted

Monday, April 25, 2022
Share this article: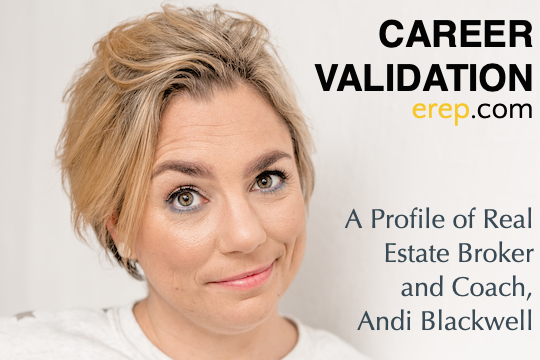 Tags: #careerplanning #CoreValuesIndex #psychometrics
Andi Blackwell conveys a quiet intelligence and sense of wisdom that puts people immediately at ease. It's no wonder she's so successful in her career as a real estate broker and coach.
After speaking with her for several hours, it was clear that Andi is in her element, fully aligned to her role. Like many people, however, she took a curvy and indirect road to get there.
---
"I saw the Core Values Index as a validation that I am hardwired to be doing what I am doing." — Andi Blackwell
The Beginning
"The family business growing up in California was real estate, construction and development, so I was exposed to that line of work from a young age," she told me. She was a bright kid and showed a lot of promise early on, starting college at just 16. Then things got serious.
"My dad tried to teach me how to do real estate when I was only 17, going over how to do a deal, rates and the whole process — it was his attempt to pass on his legacy to me, as he had been diagnosed with terminal cancer and he knew he wouldn't be around much longer [he passed away a week after Andi turned 18]. Although I learned a lot, I didn't want to get into the family business."
She pursued higher education, studying mathematics and physics. While attending college, she got her first real job as an administrative assistant at an architectural firm, but she knew it wasn't a long-term path for her. Andi went to work at a temp agency, which had some appeal because of the variety, and she jumped around a lot.
Still young, Andi was offered a job as finance coordinator for a new subdivision in her area. It was a big opportunity but she definitely knew she didn't want to work in that environment, and it was still the same field as her family's business. She turned down the position and changed her educational track.
"I went to massage school, then opened my own business doing medical massage therapy out of a doctor's office. I did that for a bit," she explained. "Then I got married and that changed my priorities quite a bit."
Massage therapy was okay but it wasn't quite what Andi wanted. "I closed my business and changed to relaxation work at a salon. Six months after that, we had a family issue in Oregon so my husband and I moved north to be of assistance."
Bills always need to be paid, and massage therapy isn't a license that transfers easily from state to state. The easiest way to get a job in Oregon was to go back to construction so she took a job and was there for a year, but got tired of the energy that a woman has to project to be accepted in the C-Suite of that industry. "I came home one day and told my husband I couldn't do it anymore. I had to be rude or aggressive just to be acknowledged and accepted and I was tired."
More life happened. A friend offered Andi a job managing a doggy daycare, then her grandmother in Las Vegas fell ill, so Andi and her husband moved there to assist. She was able to transfer her massage therapy license to Nevada and got back into that.
"I came home one day and told my husband I couldn't do it anymore. I had to be rude or aggressive just to be acknowledged and accepted and I was tired."
Self Reflection
Andi recognized something about herself through all these changes. "A lot of my path involved having a wide set of skills and the ability to adjust to changing circumstances because of it. This inspired confidence to be able to move around and switch modes, knowing I had the skills and options to change."
Las Vegas might be a fun place to visit, but moving there at the start of the Great Recession took a bit of the shine off the city. Facing a long journey to economic stability, Andi and her husband waited for the right opportunity to move back to Oregon. That came when her husband got a job in the room service department of a brand new hotel. Soon after they moved back to the Beaver State, Andi secured a job as an administrative assistant in a procurement company. After a year, they closed their doors and as luck would have it, the law firm in the adjacent office offered her a job. She literally took a job next door.
Her massage therapy background was utilized at the attorney's office by working on templating symptoms for injury settlements.
At about this time, Andi and her husband sought to buy their first house. The process had its ups and downs, but they had a good agent and their lender was someone they met at a first-time homebuyer's class.
About four weeks after they closed on their first home, they attended a charity event sponsored by their Realtor. There they met mortgage broker Gary Boyer. He saw her constantly surfing listings on her phone and gave her some life-changing advice.
"Get your real estate license or put down the house porn."
Six weeks later Andi had her real estate agent license. That was in August of 2012. Not long after, her husband got out of the hospitality business and joined her in real estate. They've been a team ever since.
The Business
Real estate is an interesting business. Many people get started but few stick with it or make a name for themselves. The barrier to entry is relatively low compared to many other career paths, yet it has the potential to provide substantial rewards.
If you sell enough houses to high profile customers or specialize in exotic locations, you might even end up on TV.
I've met many real estate agents and brokers in my career. It's not uncommon to see the nice car and clothes and a big smile, then a year later they're selling Hyundais or managing the electrical department at Lowe's.
Real estate can be a great career but it's not for everyone.
The trick is to figure out which path is right for you without a lot of expensive and time-consuming trial and error.
Andi had a lot of trial and error in her career path.
The Core Values Index
After our first interview, Andi completed the Core Values Index psychometric assessment. Her and I separately spent a week reviewing her profile report before having a second interview.
One of my first questions after Andi took the CVI was, "Have you ever taken a psychometric assessment before?"
"Several," she told me. "The DiSC, Myers-Briggs' MBTI, Strengths Finders, and a few others."
"Did you find them to be accurate?"
"I am the sort of person that has nothing to lose by being honest," Andi said. "Because of that, my assessments have been accurate at that particular space in time for me. Obviously they have limitations. They are only as accurate as you are honest."
Tellingly, she added, "If you take the DiSC on a day when you're angry at the world, your results will reflect that."
Later, after completing the CVI, we touched on the subject of consistency and reliability. "I could tell after taking the CVI and reading my report that it would maintain much better consistency in my results over time compared to the other assessments I've taken. Your personality shifts more than your values do."
"If you take the DiSC on a day when you're angry at the world, your results will reflect that."
[It is important to note that the Core Values Index has the highest repeat reliability of any psychometric assessment available today. In longitudinal studies1, the CVI had a repeat reliability rating of 97.7%. No other assessment even comes close to that.]
A psychometric assessment should have two primary characteristics. It should be accurate, and it should consistently reflect the innate, unchanging nature of the individual each time it's taken. Andi acknowledged this when her CVI profile revealed her to be an Innovator/Merchant.
"The way the CVI report describes Innovators as 'I am the presence of loving wisdom' struck true because it represents me. Even as a teenager, I was always the "mom" in the group. It represents my energy very well."
After discussing Andi's varied career trajectory, two hallmark characteristics stood out to me. She is never afraid of a challenge or of starting something new, and she has a difficult time letting problems go unresolved.
"Confidence has not typically been one of my problems. There isn't much I feel that I can't tackle or figure out along the way."
In her role as principal broker of a thriving team, she isn't always in a position to personally see tasks to completion so she increasingly has to delegate them to others. She still follows up to make sure it gets handled, though.
"Resolution is key," she said. "I must know that a problem has been solved, even if it's something I've delegated to others. On the journey, knowing it's heading toward the outcome is paramount. I can't travel just for the sake of travel."
As an explanation for this part of her personality, she said, "If I start reading a book and then find out I won't have the time to read the whole thing, I'll jump to the back to see how it ends. I always need to see the solution to something, even if it's fiction."
Even though she has to hand off some work to others, Andi still has the inner drive to tackle tough problems. She commented that this particular section of her CVI report described her perfectly:
"When everyone around them is in a panic, the Builder shouting orders, the Merchant whining or up-selling, and the Banker preaching justice or patience, the Innovator tends to isolate, grab a computer or whiteboard and gets set to work."
This desire to see the problem solved can be a challenge for Innovators like Andi. "It makes delegating hard sometimes because everything's in my head. It's weird where delegating is hard, yet you want to get it done."
More Than Just an Innovator
Does Andi's secondary core value energy of Merchant play a role in how she works? Yes.
"I sometimes experience anxiety after starting something new. I have a habit of putting myself in a position where anxiety situations occur. It's a mindset of
I can get that done sooner than you can
, yet I find out that I sometimes can't, which causes a lot of anxiety."
A key characteristic of Merchants is they find a great deal of joy getting things started. Rousing everyone to pull together and kick off a grand design is one of their biggest contributions in a group—they excel at motivating others and getting things started— but Merchants don't feel that same enthusiasm to see it over the finish line. This tends to make them great starters but inconsistent finishers.
Andi intuitively recognized this about herself and has learned to delegate tasks as needed. Her CVI report confirmed this aspect of her personality and validated her method of handling it.
Andi's secondary Merchant energy can motivate her to begin things that may not be feasible or realistic for her to finish. This causes her primary Innovator-ness to feel anxious—there are few things that stress out an Innovator more than feeling like they can't solve a problem, even if the solution cannot be found through no fault of their own.
How has she addressed this challenge? "There have been situations where along the way I realized I didn't have the capacity to do it or complete it, so I pivot to make sure someone else is doing it, but my responsibility is still met." By delegating to others, Andi still ensures the problem gets solved.
Teaching and Creativity
One of Andi's latest joys has been a gradual shift of her focus to coaching and teaching others. She provides education and coaching services to other real estate agents and brokers. This is like manna to her Innovator and Merchant energies by allowing her to help others overcome their challenges and by connecting with them on a personal level.
Whether it be working with someone one-on-one or speaking to large groups of a hundred or more, Andi revels in the opportunity to train others.
Innovator/Merchants and Merchant/Innovators are known for their creativity, and Andi is a great example of this.
I asked, "Were there any insights in your CVI profile that highlighted aspects of your job that you're especially good at? What is that connection?"
She said without hesitation, "Creativity. Most of what I do in my job is creative. For example, I have one deal where we need to figure out how to get a financing issue resolved. How can we make sure each party is at least reasonably happy? What ways can I address it that's original to get everyone as happy as possible?"
She added, "When coaching, I help my students look at their life in an unusual way, helping them arrive at solutions. They may feel they have too many things going on but not enough bandwidth to do it. I help them see the solution through the cloud."
Ultimately, what I wanted to know was if Andi felt that her CVI profile matched up to her current career path. I asked Andi if she had any anxieties about the potential of finding a misalignment between her role and her CVI profile.
"None. I saw the Core Values Index as a validation that I am hardwired to be doing what I am doing. If my CVI profile gave me new information about my hardwiring that conflicted with what I'm doing—there isn't any—but even if it did, I'd flex and adjust. Either by condition or natural ability, I don't like to borrow trouble I don't have."
---
Andie Blackwell is a Principal Oregon Broker and licensed Washington Broker at The Blackwell Group — eXp Realty, LLC and CEO of The Happiness Studio. She can be reached at 503-482-9355.
---
NOTES
1 Source: Seattle Research Partners, 2014 [PDF]
---
Go to eRep.com/core-values-index/ to learn more about the CVI or to take the Core Values Index assessment.
---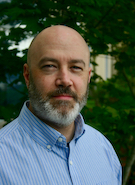 Steve Williamson
Innovator/Banker - VP Digital Marketing and Content Creation, eRep, Inc.
Steve has a career in project management, software development and technical team leadership spanning three decades. He is the author of a series of fantasy novels called The Taesian Chronicles (ruckerworks.com), and when he isn't writing, he enjoys cycling, old-school table-top role-playing games, and buzzing around the virtual skies in his home-built flight simulator.
Employer Account Sign-up
Sign up for an employer account and get these features and functions right away:
Unlimited Job Listings on eRep.com
Applicant Search
Applicant Tracking System (ATS)
Unlimited Happiness Index employee surveys
3 full/comprehensive CVIs™
No credit card required — no long-term commitment — cancel at any time
---
Write for eRep
Are you interested in writing for eRep? Read our submission guidelines.
---
Learn more about the CVI:
---