Steve Browne, a Profile of Community and Connection

Share:
By

Steve Williamson, Dir. Product Development, eRep, Inc.

Posted

Monday, February 15, 2021
Tags: #interview #HR #HRCommunity
eRep would like to introduce our readers to Steve Browne, SHRM-SCP. He is an HR professional with over 30 years of experience in the trade across a variety of industries. Steve's current role is Chief People Officer for LaRosa's, Inc., a pizzeria chain in the Midwest.
We are choosing to profile Steve because he represents the epitome of what it means to build a sense of community and connection with others. He has a wonderful reputation on social media for his tremendous ability to draw people enthusiastically into the conversation, and once you've joined in, you instantly feel like you're part of the family.
HR, at its core, is about people. - Steve Browne
eRep: You've been in the Human Resources profession for over 30 years now, so clearly you've found something that really speaks to your core personality. What was it that drew you to the profession in the beginning?
Steve: I truly am a "people person." Most folks state they have this attribute, but I don't see it being the case. I needed to be in a role/profession where I am surrounded by people. Ever since I was young, I've been involved in groups, teams, activities and jobs where I was immersed with people. HR, at its core, is about people. I felt that it would provide me an avenue to impact others and help organizations from a people perspective.
eRep: You are currently the Chief People Officer for LaRosa's, a regional pizzeria chain in the Midwest United States. What scares you the most and what excites you the most about your role?
Steve: The facet which excites me the most about my role are the great Team Members I get to work with. I know it sounds like a pat answer, but it's far from that. We get to provide great guest experiences using phenomenal food. Making sure our Team Members are cared for and engaged will allow that to happen consistently. It doesn't get old because it provides constant variety.
What concerns me the most is uncertainty in an ever-changing work environment. We've learned during the pandemic that this is a "people issue." It's like companies had some "Ah-ha!" moment and discovered they had humans working for them. It scares me that companies come together for a crisis and it's all of a sudden an awareness that people matter. People need to matter all of the time.
eRep: An HR professional wears many hats, but at a fundamental level they provide two primary functions: they solve problems and they build connections. Which is more important to you and why?
Steve: In my opinion, building relationships and connections is far more important than solving problems. If you have relationships with your employees, you are less likely to have real "problems" to solve. When HR tries to act/react based on circumstances and situations, they can't be consistent. That's because each interaction involves people. It seems basic, but we're far more likely to see HR be reactionary because that is how it's been traditionally practiced. If you develop authentic, appropriate relationships, then you can do the good work of understanding people, gathering context and making connections that value people during the process.
eRep: Beyond your day job as Chief People Officer for LaRosa's, you spend a lot of time and energy reaching out to the HR community at large. This includes writing and publishing two books, your work on the SHRM Board of Directors, and your time running HR Net, a global human resources network with 12,500+ members. Why do you think it is important to foster and promote such a strong sense of community and connection with other HR professionals?
Steve: I know that I've been successful because of others in my life. It's a basic fact. Because of that, I've always felt the pull to lift others up through encouragement and a positive approach to life. It's intriguing to me that being positive is often met with cynicism and doubt. We're becoming a global society based on distrust and divisiveness. That is sad to me, and I can't support it.
Instead of fighting against negativity, I want to bring connectivity. I want to see others know that they're not in HR — or in this world — alone. This may sound a bit altruistic, but I practice this every day. I make sure to let others know they matter because someone should. In the end, I know the more we're connected as a profession, the better practitioners we'll be and our organizations will be the types of places where people will enjoy working.
Instead of fighting against negativity, I want to bring connectivity. - Steve Browne
eRep: This question is a bit more personal. You have developed a glowing reputation on social media for being the smile that brightens every digital room you walk into. The rumor is you bring that same glow to personal exchanges in real life. How much does this outward behavior mirror your personality on the inside — is there a gap or do they perfectly line up? — and what advice would you have for those who have a disparity between their shy interior and their desire to be more personable and connected with others?
Steve: I'm the same on the inside and outside. When you meet me, you're going to meet a passionate, extroverted, positive person who's genuinely interested in you. I'm not interested merely so I can grab the chance to turn the conversation and talk about me. I want to learn about you. I think people are fascinating! Every time I meet a new person, I learn something that I never knew before. How cool is that?
I have my blue moods just like everyone else. They don't happen often, but I don't do well when they hit. Fortunately, as we covered before, I have surrounded myself with a community I can always reach out to. That is an incredible support network to count on.
My advice to people is to be approachable and accessible. Allowing yourself to let others know you first may feel risky, but I've found it works more often than not. It makes you more vulnerable, but it's worth it. I know you can get hurt or disappointed, but that is a part of the human experience. It's an exception and not the rule. I believe in others and I will continue to do so.
The second piece of my advice is to avoid being comparative. We were all designed to be unique, different and talented people just as we are. I don't want others to feel they have to be me and I don't try to be them. Valuing others for who they are is something I'd like to see everyone embrace. I think we'd find that we have always been surrounded by amazing human beings!
We were all designed to be unique, different and talented people just as we are. - Steve Browne
---
Steve Browne has 30+ years working as an HR professional in a variety of industries. He is the author of two books, HR on Purpose!! and HR Rising!! He is a current member of the SHRM Board of Directors. Steve also runs a global HR network called the HR Net which reaches 12,500+ HR and business professionals globally each week.
Steve Browne can be reached via his blog — Everyday People — at http://sbrownehr.com, via Twitter at @sbrownehr, and via LinkedIn at https://www.linkedin.com/in/steveb5/
---
Go to eRep.com/core-values-index/ to learn more about the CVI or to take the Core Values Index assessment.
---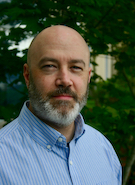 Steve Williamson
Innovator/Banker - Dir. Product Development, eRep, Inc.
Steve has a career in information technology, software development, and project management spanning three decades. He is the author of a series of fantasy novels called The Taesian Chronicles (ruckerworks.com), and when he isn't writing he is an aspiring multi-instrumentalist and composer, a virtual pilot in a home-built flight simulator, and a cyclist.
---
---
Employer Account Sign-up
Sign up for an employer account and get these features and functions right away:
Unlimited Job Listings on eRep.com
Applicant Search
Applicant Tracking System (ATS)
Unlimited Happiness Index employee surveys
3 full/comprehensive CVIs (a $150 value)
One hour consultation with a CVI expert (a $200 value)
---
Write for eRep
Are you interested in writing for eRep? Read our submission guidelines.
---
Learn more about the CVI:
---