When You Just Don't Feel Yourself
By

Steve Williamson, Dir. Product Development, eRep, Inc.

Posted

Monday, June 20, 2022
Share this article: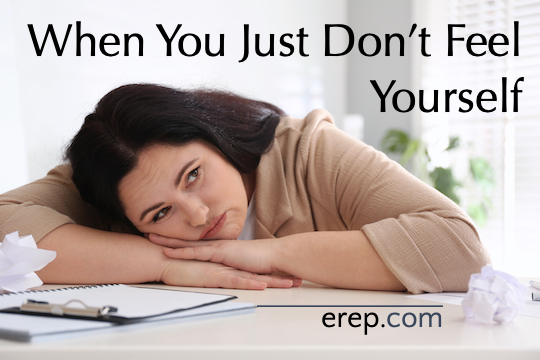 Tags: #psychology #happiness #CoreValuesIndex
Some days feel like you're wearing someone else's clothes. They may be the correct size but something just feels ... off. This is what happens when you are existing outside of your personal psychometric zone.
---
Have you ever had a day that felt uncomfortable but you couldn't specifically say why?
Everything just seemed off, like the hard laws of physics and soft rules of interpersonal communication both conspired to shift off course in an indeterminable direction.
Or perhaps you found yourself responsible for something that despite your best efforts felt Sisyphean in scale. You'd push the giant stone ball up the hill and then invariably it would slip out of your grasp and roll back to the bottom for you to start all over again.
These moments, when you're just not yourself, can sometimes feel like the norm and not the exception. You're not alone. Since early 2020, it seems like the world itself is conspiring to confound and frustrate us all.
"Confusticate and bebother!" - J.R.R. Tolkien
On a personal scale, however, this disjointedness and disconnectedness from our natural, 'in the zone' state can be surprisingly common. It can take form in ways both tiny and huge.
Perhaps you find yourself engaged in conversation with a person that just doesn't seem to understand or agree with anything you say. They just don't get you. Or you are assigned a task at work that completely contradicts your personality and way of working.
For many, being asked to speak in front of a group is a common example of living outside your comfort zone.
That phrase — comfort zone — speaks volumes. Without knowing anything about you, if you tell a stranger you are living a day outside your comfort zone they will immediately understand what you mean and completely relate to how that feels.
Define Your Comfort Zone
At eRep, we provide the Core Values Index™ psychometric assessment.
Perhaps one of the best ways to describe what the CVI does is it helps you define and clarify what your comfort zone is.
The CVI can also help you figure out why some situations will cause you to feel outside of your comfort zone.
There is a common misconception that personality tests, or more precisely psychometric assessments, tell you what you're good at. Many make that claim, but not the Core Values Index. The CVI tells you what makes you happy.
It's easy to draw the connection between finding your happiness and finding what you're good at, though. It's common sense that a highly creative person would likely be good at creative endeavors. The flip side of this is that someone who isn't creative would likely be unhappy when attempting something that requires a high degree of creativity.
There's a lot to be said for grit, tenacity and personal toughness. We admire and respect those who tough their way through adversity. But do you honor someone who won't stop pushing on a 'pull' door?
When you find yourself in a situation that is outside of your comfort zone, what do you do about it?
It helps to first recognize and define what is your comfort zone. Determine the kind of activities and endeavors that align with how you are emotionally hardwired. Are you creative or logical? Are you a natural-born leader or do you prefer to follow? Would you rather get everyone motivated and pulling together toward a common goal, or go your own way independently solving problems by your own methods?
These things can be determined and defined. Take a solid and reliable psychometric assessment like the Core Values Index. It will give you the knowledge you need to identify your personality's DNA. It will give you clarity about what type of activities and jobs and tasks, and even potentially your entire career, that will be most likely to make you feel happy and fulfilled.
Flip that information and you can clearly identify the things that make you feel outside your best, natural self. Your CVI profile can define your comfort zone and the boundaries of where your personal discomfort lies.
Core Values Index™ and CVI™ are trademarks of Taylor Protocols, Inc.
---
Go to eRep.com/core-values-index/ to learn more about the CVI or to take the Core Values Index assessment.
---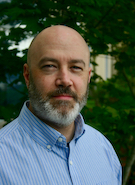 Steve Williamson
Innovator/Banker - Dir. Product Development, eRep, Inc.
Steve has a career in information technology, software development, and project management spanning three decades. He is the author of a series of fantasy novels called The Taesian Chronicles (ruckerworks.com), and when he isn't writing he is an aspiring multi-instrumentalist and composer, a virtual pilot in a home-built flight simulator, and a cyclist.
---
Employer Account Sign-up
Sign up for an employer account and get these features and functions right away:
Unlimited Job Listings on eRep.com
Applicant Search
Applicant Tracking System (ATS)
Unlimited Happiness Index employee surveys
3 full/comprehensive CVIs
No credit card required — no long-term commitment — cancel at any time
---
Write for eRep
Are you interested in writing for eRep? Read our submission guidelines.
---
Learn more about the CVI:
---