Ultimate Leadership Resource Guide, Part 4: Find Your Keys to More Effective Leadership
By

Steve Williamson, VP Digital Marketing and Content Creation, eRep, Inc.
Posted

Wednesday, March 15, 2023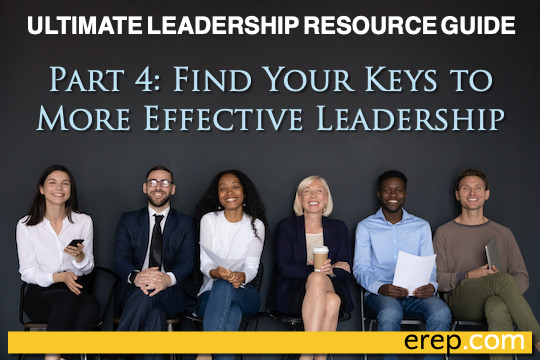 If you are a business leader and want to improve your team's performance as well as grow your own leadership skills, we've compiled a 7-part series of useful and insightful articles to guide you effectively and efficiently.
---
Part 4: Find Your Keys to More Effective Leadership
Next, we provide some outstanding resources to help you on your path toward improved leadership skills.
Do leaders need power-based personalities to be effective? Is a domineering style required to succeed in positions of leadership? We unlock the secret skill great leaders embrace that sets them apart. Can you guess what it is?
---
Think of three highly creative people and three prominent leaders. What do you have in common with them? We discuss two myths about creativity and leadership, and the connection that ties them together.
---
To step up to new leadership responsibilities, we've listed six ways to help you develop and improve your leadership and management skills.
---
If we asked 2,000 people on the street, "Name someone who won," we can guarantee there would be one thing every person they mention would have in common.
---
Think of someone you consider to be a great leader, either living or dead. How would you describe their personality? How many of those traits do you have? Do you have the psychometric profile to be a leader as well?
---
We can't avoid a subjective sense for how well someone does their job, that?s human nature. We still need an objective way to measure it, though. But is quality a science, or is it an art, too?
---
Consider the world's top athletes, people like Michael Jordan or Simone Biles or Tom Brady. What do they have in common? They know their strengths and play to them. They also don't waste their time on activities outside their wheelhouse.
---
You measure the success of a coach's leadership by the performance of their team. More than any other factor, the team an effective leader builds is what determines the success of their organization.
---
Even if you aren't in a position of leadership, understanding the emotional hardwiring of yourself and others is tremendously beneficial. If you don't know the CVI profile of yourself and your team, you are leading blindly.
---
The complete series:
Part 1: Fuel your Team's Performance
Part 2: Kill High Turnover
Part 4: Find Your Keys to Effective Leadership
Part 5: People are Your Greatest Resource — Coming soon
Part 6: Accurate Hiring is Your Secret Weapon — Coming soon
Part 7: Attract Top-notch Candidates — Coming soon
---
Go to eRep.com/core-values-index/ to learn more about the CVI or to take the Core Values Index assessment.
---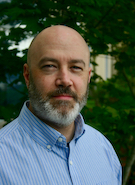 Steve Williamson
Innovator/Banker - VP Digital Marketing and Content Creation, eRep, Inc.
Steve has a career in project management, software development and technical team leadership spanning three decades. He is the author of a series of fantasy novels called The Taesian Chronicles (ruckerworks.com), and when he isn't writing, he enjoys cycling, old-school table-top role-playing games, and buzzing around the virtual skies in his home-built flight simulator.
Employer Account Sign-up
Sign up for an employer account and get these features and functions right away:
Unlimited Job Listings on eRep.com
Applicant Search
Applicant Tracking System (ATS)
Unlimited Happiness Index employee surveys
3 full/comprehensive CVIs™
No credit card required — no long-term commitment — cancel at any time
Write for eRep
Are you interested in writing for eRep? Read our submission guidelines.
---
Learn more about the CVI
---