The Personality Algorithm
By

Steve Williamson, VP Digital Marketing and Content, eRep, Inc.
Posted

Monday, February 27, 2023
At the heart of every struggle I've encountered over the course of my 30+ year career there has been a disconnect between what I was trying to do and how I am emotionally hardwired. I was either doing things contrary to my core personality — trying to be someone I was not — or I was tapping into minor parts of my personality that were inappropriate or ineffective for the situation, rather than use the primary aspects of my emotional hardwiring that were home to my personal strengths.
We all have the potential to achieve great things. But those achievements are unique to each of us. What is a lofty accomplishment for one may be a wasteful expenditure of energy for another.
One does not berate the fish for its inability to climb a tree, nor the capuchin monkey because it cannot swim to Hawaii.
The only person you have to compete against today is the person you were yesterday.
Think back on your adult life to date. There have no doubt been some people who were oil to your water. No matter how hard you tried, you and this other individual just couldn't find common ground. Perhaps it was a co-worker that insisted on doing things in a manner that was contrary to what you saw as an obviously better way. Maybe you had a boss who never understood your strengths, and instead pushed you in directions that deviated 179 degrees from your preferred approach.
Relationships are not immune to this disconnect, either.
Perhaps you have been involved with someone where attraction was abundant at the start, but you eventually realized that your initial chemistry has turned into dill pickles on a birthday cake.
You just don't see the world in the same way.
I've experienced all of these in my own life. I've had co-workers that were incapable of seeing things the correct way (my way). I've worked for leaders that insisted I take an approach incompatible with logic and common sense (even if it actually was a better method than my own). And I've been in personal relationships that seemed promising at first but turned into futile and draining wastes of emotional energy and time.
What has been common to all these scenarios? Me.
To be specific, my inability to approach each situation with an honest awareness and acknowledgement of my own emotional hardwiring is what kept them from being something more positive or constructive — or avoided altogether.
Let me be clear about a crucial point, though. Had I steadfastly insisted that every encounter and relationship be adjusted to suit my personality, they would have turned out far worse than they did.
Knowing who you are does not require rigidity to work. Inflexibility is counter to interpersonal productivity.
Had I fully understood where I was coming from and what I brought to the table from an emotional and psychological standpoint, I could have adapted and adjusted to each situation and relationship.
By knowing where I was, I could have more easily gotten to where I needed to be.
Personality Algorithm
The algorithm for interpersonal success seems to have two parts.
First, know yourself. Learn and understand how you are emotionally hardwired. Become familiar with your personality's DNA. Understand how you see the world and choose to operate within it, and by extension you will understand the reasons why.
Second, learn the core concepts of how others are emotionally hardwired. Become familiar with the key personality types and emotional energies that people have and learn how to recognize them.
Once you have accomplished these two steps of the personality algorithm, you will be more successful at identifying what is required to navigate every professional and personal relationship you encounter. You will be able to adapt and tap into the facets of your own personality and behavior that are appropriate for each situation.
I learned about my own personality after taking the Core Values Index™ psychometric assessment. It has helped me understand my why and how regarding the way my personality determines the lens through which I see the world. By learning more about the different personality types people have and how to identify them in those I meet and work with, I have discovered I am more productive and effective in every situation.
Core Values Index™ and CVI™ are trademarks of Taylor Protocols, Inc.
---
Go to eRep.com/core-values-index/ to learn more about the CVI or to take the Core Values Index assessment.
---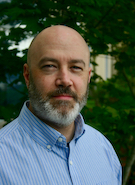 Steve Williamson
Innovator/Banker - VP Digital Marketing and Content, eRep, Inc.
Steve has a career in project management, software development and technical team leadership spanning three decades. He is the author of a series of fantasy novels called The Taesian Chronicles (ruckerworks.com), and when he isn't writing, he enjoys cycling, old-school table-top role-playing games, and buzzing around the virtual skies in his home-built flight simulator.
Employer Account Sign-up
Sign up for an employer account and get these features and functions right away:
Unlimited Job Listings on eRep.com
Applicant Search
Applicant Tracking System (ATS)
Unlimited Happiness Index employee surveys
3 full/comprehensive CVIs™
No credit card required — no long-term commitment — cancel at any time
Write for eRep
Are you interested in writing for eRep? Read our submission guidelines.
---
Learn more about the CVI
---