Ethical Hiring in 2022
By

Steve Williamson, Dir. Product Development, eRep, Inc.

Posted

Monday, January 3, 2022
Share this article: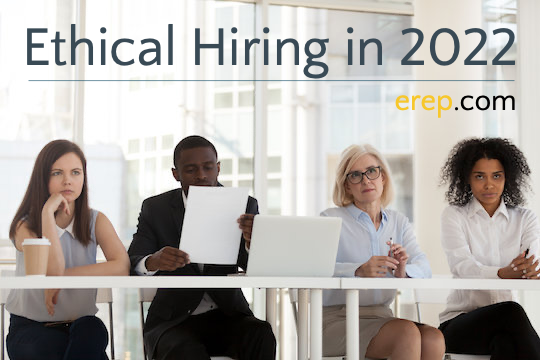 Tags: #hiring #talentmanagement #talentacquisition
The Great Resignation has thrown employers into turmoil as they struggle to maintain existing staff and hire replacements. Desperation can motivate some to pursue methods that are not only unproductive, but may even be unethical.
---
Hiring is hard.
This article could end right there, with every reader walking away nodding their head in agreement. Do some have tips and tricks for making it easier? Absolutely. Are any of them silver bullets offering guaranteed success? No.
As with most things in life, there is a difference between hiring and hiring well. You may be able to get warm bodies into seats but that will likely cost you more than its worth.
How do you fight the urge to hire anybody who will say "Yes!" or even, "Meh, okay," to a job offer, and instead seek — and land — those who are truly qualified and appropriate for the role?
Don't be tempted by the dark side of hiring. Don't cut corners and take the easy path by skimping on ethical guidelines or even hard legal requirements. Hire ethically, do it methodically, and follow evolving and sound best practices. Productivity will improve and retention will increase.
We present a guide of what to do and what not to do as you enter 2022 and seek to overcome your staffing challenges. We're going to be rather blunt about this because the results matter. Besides, do you really have the time or energy to waste on sugar-coated platitudes that won't actually help?
Let's get started.
Job Listings and Offers
Don't bait-and-switch your pay or benefits offer in the job listing, then undercut the applicant once they say yes.
Be truthful in what you offer and what the candidate can expect regarding their duties, workload, location, and shift.
Be reasonable in your expectations. Are you paying $1 above minimum wage for a position that requires 6 years of college education and 5 years experience? If so, don't complain when no one applies.
If remote work is allowed but only partially, be clear about what 'partially' means. Is it one day a week? Only on specific circumstances with prior approval? Other?
It's simple: a lot of this advice focuses on honesty and integrity.
Retention
Does your pay scale need to be updated? If people are quitting to find better-paying work elsewhere, do some basic research to find out why. Conduct exit interviews. Do some market research to see what your competitors are paying. You may not want to pay more, but even if you rehire someone at the same (or even a lower) wage as a departing worker, the cost of turnover can easily exceed what an increase in pay for an existing worker would have been.
If someone leaves and you need to hire a replacement, find out if the supervisor is the reason for the departure. More people quit because of a bad boss than for any other reason. (Low pay is a recently increasing cause.) Maybe you need to move someone else into that supervisory position first before you lose even more team members.
Fear, Diversity and Culture
If you use psychometric assessments such as the Core Values Index (a great choice!) as part of your selection process, be up front with candidates about which assessment you're using and how their results will factor into your decision. Not all psychometric assessments are created equal and some have a bad reputation.
Some candidates will refuse to pursue a job if they find out psychometrics are used in the hiring process. The Core Values Index practically eliminates bias from the assessment process, but not every candidate may know this. Be up front about your use of assessments and answer any questions candidates may have.
Do you state in your job listings that you honor diversity in your hiring practices, but have a homogenous workforce? Be honest with yourself when assessing your diversity track record and don't be afraid to get outside expert advice when reviewing your hiring practices.
Get outside expertise to help you review your job listings as well. It's not uncommon to use language that unknowingly turns off some candidates.
Be sure to review your culture. When hiring to fit a certain culture, bias can creep in without realizing it and well-qualified candidates can be excluded for arbitrary and subjective reasons all under the guise of cultural fit. Although culture can be a contentious topic, our recommendation is to hire candidates with the best Core Values Index psychometric profile and experience for the role and let your culture grow organically.
Employment is a Relationship
Recognize that employment is a two-way relationship between you and the worker. This relationship demands mutual respect and appreciation for what is expected of each other. You need the worker as much as the worker needs you, so go into the hiring process with the required level of respect and honesty.
Workers who are genuinely valued are far more likely to be productive and to stick around for the long haul. Employment goes both ways, so if you want dedication and loyalty from your staff, give it back in equal measure.
Expertise is an Investment, Not an Expense
If hiring has proven to be a challenge, don't be afraid to get outside help. eRep provides talent acquisition services that have proven to be quite effective at putting the right people into the right seats. Recruiters can also help get those applications coming in, and HR professionals are available to ensure your practices foster a productive, happy and long-lasting relationship between you and your team.
---
Go to eRep.com/core-values-index/ to learn more about the CVI or to take the Core Values Index assessment.
---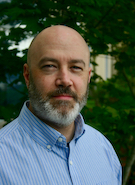 Steve Williamson
Innovator/Banker - Dir. Product Development, eRep, Inc.
Steve has a career in information technology, software development, and project management spanning three decades. He is the author of a series of fantasy novels called The Taesian Chronicles (ruckerworks.com), and when he isn't writing he is an aspiring multi-instrumentalist and composer, a virtual pilot in a home-built flight simulator, and a cyclist.
---
Employer Account Sign-up
Sign up for an employer account and get these features and functions right away:
Unlimited Job Listings on eRep.com
Applicant Search
Applicant Tracking System (ATS)
Unlimited Happiness Index employee surveys
3 full/comprehensive CVIs
No credit card required — no long-term commitment — cancel at any time
---
Write for eRep
Are you interested in writing for eRep? Read our submission guidelines.
---
Learn more about the CVI:
---