Can You Look for Top Performers When Basic Workers are Hard to Find?

Share:
By

Steve Williamson, Dir. Product Development, eRep, Inc.

Posted

Monday, October 1, 2018
Take the Core Values Index today to find out where your personal and professional strengths lie.
The unemployment rate is 3.9% as of September 2018. Workers are the sellers and it's a seller's market. The differential between vacancies and unemployed (available) workers was 659,000 for the month of July (2018). To make matters worse for employers, the 'quits' rate, a measure of workers who voluntarily leave their position, jumped to a record level.
How do organizations hire top performers when even basic workers are hard to find? Perhaps more importantly, how do companies keep top performers from jumping ship to work for the competition?
Talent acquisition is a serious challenge these days. Talent retention is, too. The statistics of worker engagement highlight how serious retention can be. Up to 70% of workers are disengaged, and 22% are actively disengaged. To make matters worse, disengaged employees can cost up to three times their annual salary in lost productivity.
Now that we've scared you to financial death, what can be done about it? Can these challenges of talent acquisition and talent management be solved when even basic workers are hard to find?
Yes, but you won't be able to do it through outdated hiring and management methods.
A New Tool In Town
Enter the age of the Core Values Index psychometric assessment and the use of objective data in the human capital management space.
Screening job candidates based on psychometric assessments isn't new. Myers-Briggs, The DiSC, Strengths Finders, and others have been in common usage in the corporate world for years. Despite their different methods, all of these assessments share a common trait: their cost and complexity exceeds their effectiveness.
And then came the Core Values Index assessment. Developed by Lynn Ellsworth Taylor, the CVI broke through all functional boundaries associated with psychometric assessments. It is inexpensive – less than $50 per assessment – and easy to take – less than 10 minutes. The results are intuitive and don't require specialized training to understand and interpret.
The best aspect of the Core Values Index assessment is its repeat reliability. If you take a psychometric assessment more than once, repeat reliability measures how similar your scores will be. 100% would represent identical results. Based on longitudinal studies, the CVI has the highest repeat reliability rating of any psychometric assessment available on the market today, 97.7%. No other assessment even comes close.
The overall goal of talent acquisition and talent management initiatives is to put the right people into the right roles.
Putting the right people into the right roles ensures top performers are selected from a pool of candidates, and when they come on-board, they are engaged and enthused about their position because it is aligned with their innate unchanging nature.
When you put the right people into the right roles, you build a team of top performers. Top performers are actively engaged in their role. Studies have shown that engaged workers can be up to 200% more productive than their peers. Engaged employees also see much lower turnover.
How Does It Work
Employers use eRep to conduct a Top Performer Profile™ for the role. This defines the objective characteristics of the position using standardized Core Values Index scoring. Candidates spend 8-10 minutes completing a CVI assessment, and their scores are compared against the role's TPP score. Those with closely matching scores are then screened for work history and educational requirements. Top candidates are brought in an for an interview and a hiring decision is made.
Candidates placed in roles through this CVI-TPP match process are what eRep calls Top Performers. Top performers often report that their roles feel as if the position was made specifically for them, a perfect fit. It is this fit that starts the relationship of success between employee and employer.
Once top performers are in their roles, engagement and employee happiness is fueled on an ongoing basis through eRep's Performance Fuel application. The performance fuel formula of clarity, purpose and feedback give employees what they need to execute at their highest level. When this level of performance is fueled, engagement climbs and turnover drops.
It all starts with the right hire by using the objective data of the Core Values Index assessment and an eRep Top Performer Profile.
---
Go to eRep.com/core-values-index/ to learn more about the CVI or to take the Core Values Index assessment.
Source
---
---
Learn more about the CVI:
---
Write for eRep
Are you interested in writing for eRep? Read our submission guidelines.
---
Connect with eRep:
---
---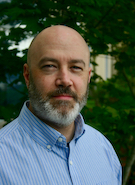 Steve Williamson
Innovator/Banker - Dir. Product Development, eRep, Inc.
Steve has a career in information technology, software development, and project management spanning three decades. He is the author of a series of fantasy novels called The Taesian Chronicles (ruckerworks.com), and when he isn't writing he enjoys cycling, motorcycle adventure touring, and buzzing around the skies in his home-built flight simulator.